Lake Ontario-SC (Monroe County) Waterproof Map (Fishing Hot Spots)
Includes Braddock Bay, Greece Ponds, Rochester Harbor and Irondequoit BayLakes Online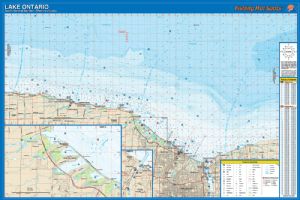 $12.95
In Stock:
Free shipping via U.S. Postal Service!
Vendor: Fishing Hot Spots Item#: M475
Description
World-class fishing for Chinook salmon, lake trout, steelhead and brown trout. Near-shore structure is excellent for smallmouth bass, northern pike and largemouth bass in the bays. Walleye numbers continue to grow. These are the instantly recognizable "blue maps" the made Fishing Hot Spots a household name with anglers nationwide. These maps profile many of the larger bodies of water in a number of states and offer many of the features of the "L" maps. The major difference is limited GPS information. All fishing areas are shaded and numbered, leading you to the detailed reports on the map. Size - 24 x 36.These 11 x 17" maps are found for those smaller lakes that are too good to ignore. Available only in the upper Midwest, the maps feature detailed contours and some fishing information.